Marshall Home and Mattress Direct are proud to be a locally owned company that truly cares about our community and wants to help where we can!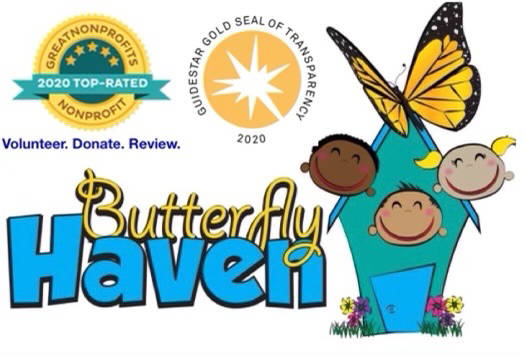 Butterfly Haven serves children impacted by Foster Care and families who have experienced a Crisis situation.  We currently serve families within the St. Louis metropolitan area, St. Charles County, Lincoln County, Franklin County, and Jefferson County.
Butterfly Haven, Inc. is a 501(c)(3) nonprofit organization, serving children impacted by foster care and families who have experienced a crisis situation. We currently serve families within St. Louis City, St. Louis County, St. Charles County, Lincoln County and Jefferson County, Missouri. Butterfly Haven's staff are all volunteers who love our Community and have a heart for children and families who are in need.
Click here to support Butterfly Haven
Butterfly Haven Inc
8505 Mid County Industrial Drive
St. Louis, Missouri 63114
314-884-1996 Message Only
*Office hours by appointment.
When you buy a new mattress, you have the ability to donate your current mattress set to our partners at the Sharing Shed.  The Sharing Shed is part of a larger non-profit and focuses on collecting furniture and household supplies, which are then distributed to families in need.  This assistance is offered to clients who are going through the process of getting back on their feet.  The Sharing Shed creates a store-like environment where clients can choose the specific items they would like to have in their new home.
They get referrals from many non-profit organizations in the St. Louis area, which help all sorts of people suffering from things like fire or flood damage, displacement due to job loss, fleeing abusive relationships, recovering from homelessness, or dealing with other hardships.   You also have an opportunity to donate other items, including dishes, household furniture, and small appliances. If you'd like to donate a new bedframe, pillow, or mattress protector from Mattress Direct, these items can be purchased and set to deliver directly to the Sharing Shed.
Additionally, the Sharing Shed runs solely with the help and assistance from volunteers.  If you have the time and ability, they are always looking for volunteers to help sort through and organize donations and to help clients through the process of choosing their items.  Learn more by visiting thesharingshed.org.
What can I do if my family and I need help?
Our friends at the Sharing Shed work with several different organizations in and around the St. Louis area.  These organizations work to help people in all kinds of situations and are the ones who can offer referrals to the Sharing Shed.  These partner organizations work to help individuals suffering a wide array of hardships.  Below you'll find basic information on different organizations associated with the Sharing Shed and their contact information.
For a list of items the Sharing Shed can and cannot accept please visit their Website : 
thesharingshed.org
713 Powell, Warrenton, Missouri 63383
636.456.4645 – Office
314-570-6691
357 Shockdrake Ct (27.82 mi)
Wentzville, Missouri 63385
Delta Center For Independent Living
PHONE: 636-926-8761
3837 MCCLAY, SUITE T
ST. PETERS, MO 63376
Developmental Disabilities Resource Board
p. (636)939-3351
Email: [email protected]
1025 Country Club Rd
St. Charles, MO 63303
Family Advocacy & Community Training(FACT)
(636) 949-2425
800 Friedens Road, Suite 200
Saint Charles, MO 63303
(636) 466-1365
P.O. Box 966
O'Fallon, MO 63366
Love In the Name of Christ (LINC)
636-332-5127
9 Love Park Lane
Wentzville, MO 63385
https://lincscc.wordpress.com/
(636) 561-5680
1600 Feise Road
Dardenne Prairie, MO 63368
http://www.morningstarchurch.faith/newhoperesourcecenter/
Oasis Food Pantry & Thrift Shop
636-723-0037
1814 Boone's Lick Road
St. Charles, MO 63301
St. Louis City Inn: Serving St. Louis City and St. Louis County
4223 S. Compton
St. Louis, MO 63111
Phone Number: 314-351-4590
St. Charles Inn: Serving St. Charles and surrounding counties
3607 Highway D
Defiance, MO 63341
Phone Number: 636-398-5375
Sts. Joachim & Ann Care Service
Phone: 636-441-1302
4116 McClay Road
St. Charles, MO 63304
St. Vincent de Paul SocietyDardenne Prairie
(314) 881-6000
1310 Papin Street
Saint Louis, MO 63103
E-mail: [email protected]
Salvation ArmyO'Fallon, St. Charles
O'Fallon Location:
1 William Booth Drive
O'Fallon MO 63366
Phone
636-240-4969
St. Charles Location:
St. Charles
2140 North 4th Street
St. Charles MO 63301
Phone
636-946-7966
636-336-2534
6209 Mid Rivers Mall Dr., #119
St. Peters, MO 63304
http://www.thesparrowsneststl.org/
Turning Point Domestic Violence Shelter & Support
636.456.1186
PO Box 426
Warrenton, MO  63383
http://www.turningpointdvs.com/
636-946-5600
1815 Boone's Lick Road
St. Charles, MO 63301
Tenth Life provides veterinary care, foster homes, and adoptive placement to stray cats and kittens, prioritizing those with special needs. We work to end unnecessary euthanasia and cat homelessness through educational outreach, community programs, and collaborative partnerships.
3202 Cherokee St.
St. Louis, MO 63118
Current Hours: 
Fri-Sun 12-5pm, 
or by appointment via
[email protected]